Regardless of how those around him felt, Richie had all ready began to think of this thing as a band. He had never been a member of a rock band before, having always performed as a solo act. As they began playing out as "the pets" they had begun also to write together. (the name "pets" came from the general opinion that since Gary was always begging food off Richie, he was his "pet". Al Spero would take this "pet" behavior to it's farthest extreme.)
As far as anyone can remember without an argument, the first song Gelbstein and Applegate wrote together was "wait for tomorrow to come". This had been a Tom Waits type ballad that Gary had written, and when he played it for Richie, Gelbstein asked for a copy of the lyric. A few days later Gelb played a new song for Gary. He had turned the mournful ballad into a Robbie Robertson/The Band type of country/rhythm and blues. Applegate wasn't happy but he had to admit it worked better than his own version. This "Gary writes a lyric, Rich puts it to music" system would account for the writing of most pet clam songs.
Unfortunately, when they weren't playing original music, they were not a very good band. Rich's distinctive voice and pounding style of piano didn't work on many non-clam songs. They managed to get a plum gig as the house band at Asbury's Stone Pony club, but lasted less than a month. In their defense, they were fired more for their complaints about money and scheduling and for their drinking, then for how they sounded.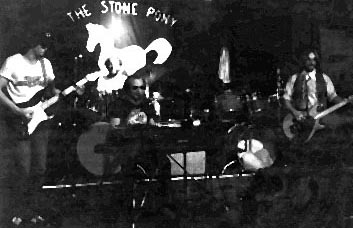 This was a watershed event for the boys, they realized they would never get anywhere in Jersey, and New York City was only sixty miles away. But first they had to go to Connecticut.
Jack Cortes, who was serving as manager for the pets, had a connection with a studio in New Haven. He had arranged for the studio's house band "the Scratch Band" (featuring a young G.E.Smith) to come down to Asbury and play with the Clams. The Band also wanted to get back into the studio and record some material that represented the band, and not Richie's solo work. So Jack arranged for a road trip north to Trod Nossel Studios. They recorded three new songs, went back to jersey, and found that Jack had booked them for a monday night audition at CBGB the next day.
It's interesting to look at what had happened in the few months between blue rock and trod nossel. The three Conn. songs were "why did you leave me?", "Apathy", and "I'll do it all for you". "Why did you leave me?" was a pounding bluesey lament with a wild rollicking chorus. It's last line was an Applegate lyric. "I'll do it all for you" was an Applegate/Gelbstein collaboration, and "apathy" with it's sex pistol power trio feel and lyric was an Anderson/Applegate song.
They auditioned at CBGB that monday night, along with a band called the "v.d. inspectors". They played a combination of Blue Rock and Trod Nossel material, ending with "why did you leave me?". After they finished the set and were breaking down their gear, a big bear of a man walked up to the stage and said "how'd you like to be on a record?"
It was Hilly Kristal, the owner of CBGB.